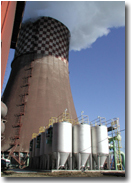 Our long-term experience with solution of automation tasks allows us to present a wide scale of solutions for a different types of technologies and and a wide range of controlled objects. Single-purpose machines with local control are at one end of the scale, complex production lines with many networked local systems and supervisory control are at the second one.
Managed range of control equipment - from self made controllers and HMI terminals to Schneider and Siemens systems, allows us find price optimal and always fully functional solution for any customer. This fact is exploited with many other firms that built control systems on the base of our supplies.
Examples of SK system components based solutions
Big-bag weighing machine

Control systems of big-bag weighing machines and sacking machines have many variants. The simplest one are controlled by NDS-1 with tensometric input and relay outputs. More complex weighing machines are controlled with NDS and CIO modules or combination of VTT terminal, HSO tensometric module and necessary number of CIO modules is used.


Carton box splicer

Control system of splicer controls machine rotation speed and synchronize it with sloter speed. Sloter cuts needed shape from carton tables. Cutted cartons are curved and pasted on the following splicer transport belt.
NLC-3 controller regulates sloter and splicer speed by analog outputs connected to Siemens frequency inverters. Speed is synchronized on the base of time difference measurement of input signals from sloter and spliter . Signal time difference is processed by PID regulator in NLC. Speed and position loop enables continuous transition of cartons from sloter to spliter. NDS-1 controls paste application.
Distillery column control

Distillery column control system controls temperature and pressure at selected positions of spirit distillery columns, regulates steam heating and controls material transport.
Temperature and pressure measurement is solved by NDS process controllers. Some actuators are driven with frequency inverters controlled by NLC analog outputs. NLC controls also heating regulation valves on the base of temperature and pressure data from NDS. All control components are interconnected by CAN (Controller Area Network) with VTT-3 HMI terminal. VTT-3 displays technology data state and allows actuators control and working mode selection.
Electrometer component production line

Electrometer component production lines are special target machines. They consist of many electrically and pneumatically driven units - drills, screws, cutters, transport mechanisms.
Lines are controlled by 4 NLC controllers networked by CAN. Production line units are synchronized by CAN messages between controllers. NDS-1 is used as a simple state indicator.
Food stores temperature monitoring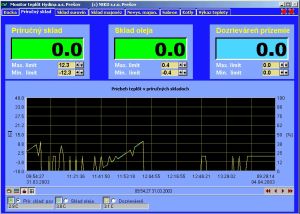 Food stores temperature monitoring system measures and archives temperature at selected points of food stores for hygienic inspection needs. Monitoring system is sometimes integrated with cooling circuit control.
Temperature measurement is implemented by NLC-3 controllers with analog inputs and NDS-1 process controllers with Pt100 inputs. Temperature is locally displayed by VTT-2 terminals. VTT-2, NLC and NDS controllers communicate locally by CAN. Remote parts of distributed monitoring system are networked by Ethernet.
Data archiving and presentation is realized in Control Web SCADA system.
Concrete Production Lines

Concrete production line control system controls weighing, mixing and transport of gravel fractions, cement, plastificators and water. The different types of concrete are mixed according to specific receipts.
Control system consists of NLC-3 controllers, CIO modules, HSO-1 weighing transducers, NDS-1 with tensometric input for weighing and impulse input for water measurement.
All components are networked by CAN and interconnected with PC. Supervisory control and book-keeping system are implemented on PC.
Economic versions with PC substituted by VTT-3 terminal are supplied too.
Mess Production Lines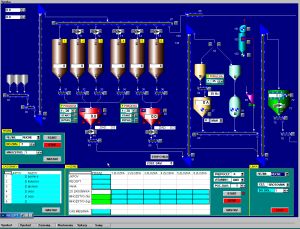 Mess production lines consist of corn containers, transport lines, elevators, weights, gritting machines, mixers and other units. Mess components are prepared and mixed according to certificated receipts.
Control system solution depends on production line size, needed comfort and price limits. Low cost solutions are based on VTT-3 terminals, CIO modules and HSO-1 weighing transducers. Large lines are controlled by NLC-3, CIO and HSO modules and visualized on PC.
VTT-3 solution allows receipt creation and selection, line control, archiving and weighing protocol printing from terminal.
PC based solutions allows complete supervisory control of all production line components, more comfortable operating and database archiving.
Shipment and Stock System for Meat-packing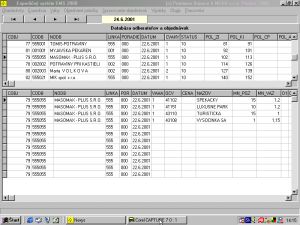 Shipment and stock systems for meat-packing factories perform exact evidence of animals and meat movement through the production technology. System executes animals evidence and weighing, evidence of meat movement between production units, weighing of components of meat products according to receipts and meat and meat products shipment according to customers orders.
Stock system is based on VTT-3 terminals connected by serial links with weighing indicators, printers, scanners and other equipment. Terminals are CAN networked with PC computer, where NEXYS software runs. NEXYS realizes interface of terminals with economic and billing system of the factory and presents operation staff of terminals and PC with needed information.
Analog modules for stock room temperature measurement or regulation can be integrated too. System can be modified for other types of stock plants.
Examples of Siemens components based solutions
Packaging line control system
Packaging line performs packaging of sanitary napkins into cartons. High cadence, high speed movements and accurate positioning are the main tasks.
Line is controlled by CPU-314 2DP controller and OP-7 terminal connected by PROFIBUS. Positioning is solved by controller and frequency inverter Altivar.
Concrete Production Line

Concrete production line control system controls weighing, mixing and transport of gravel fractions, cement, plastificators and water. The different types of concrete are mixed according to specific receipts.
We realized reinstatement of control system based on Siemens S5 controller. Original system was supplied by Stetter, Germany. Supervisory control program working in DOS was replaced with Control Web and actual economic software, S5 software was completely rewritten.
Industrial Waste Water Cleaning Stations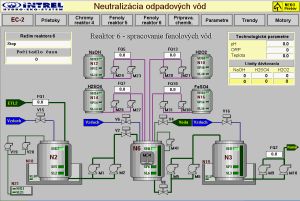 Industrial waste water cleaning stations are complex technological lines consisting of many water and chemicals tanks, pumps, valves, level, pH, REDOX and other values sensors. Water overworking methods are often quite complicated and depend on type of pollution. Chromic, phenolic, nickel, dye, acid and other types of waste water cleaning process were realized.
Control systems are based on S7-300 controllers, OP7, OP17, OP27, TP270 terminals, PROFIBUS and industrial ETHERNET communications. Supervisory control is based on Control Web or Wondeware InTouch SCADA system.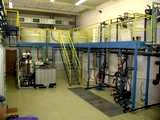 Waste water cleaning station control systems are supplied also on the base of SK system produced control systems.