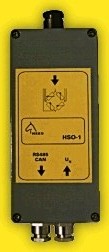 Tensometric transducer HSO-1 converts low voltage load cell signal to digital data. Its key features are
Tensometric load cell signal is processed with high precision 16-bit analog converter. Communication line and microcontroller circuits are galvanically decoupled.
Implemented software allows efficient communication with other devices through CAN bus interface. HSO commands allows setup transducer working mode according to customers requirements and save it in non-volatile memory.
HSO is used as a data source for NLC controller , VTT terminals or other control units. On this base control systems of weighing equipment is built.
Transducer is covered in robust metallic enclosure with IP65 protection and is well suited for industrial weighing system building.