Process Controller NDS-1


---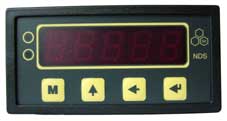 NDS-1 process controller is intended for universal, precise and cost-effective control task solution in all branches of industry. Its primary function is to measure and display analog values in selected units, communicate with other devices and control actuators.
Process controller has 5-digit LED display, 4 switches, 2 limit value relays with LED indicators, microcontroller core and communication circuits, analog input circuits and output circuits. Analog input can be replaced with tensometric input module, Pt100 module, 3 binary 24V inputs module or 2 binary input module with NAMUR level.
High measurement precision and stability is guaranteed with 16-bit A/D converter. Analog input module allows measure standard current and voltage signals, Pt100 and thermocouple sensor signals
Microcontroller circuits and CAN or RS485 communication circuits are galvanically decoupled. Real time clock allows use controller for time control tasks solving.
Output circuits consist of 2 relays and 1 transistor output (changeable with binary input). Relay state is indicated with front panel LEDs. Display consists of 5 7-segment LED indicators that allow to display all hexadecimal digits and some special characters. Numbers at range -9999 to 99999 can be displayed. Decimal point position can be defined.
Process controller configuration and parameter setting is realized by setup menu and saved in EEPROM memory. Unit is powered by 24V power source.
NDS-1 controller is buit as front panel plug-in module. This enables its to be installed and replaced very quickly without special tools and without disturbing the wiring.
Process controller is TUV certified.
Power source
Power voltage


Power

current
24V±25% DC
max.150 mA

Display characters

Char set




Char height

16

chars, 2 fonts


13mm,

red LED

Analog input signal

Number




Voltage input




Current input



T

h

ermo

couple


Ten

s

omet

e

r

l

1
20mV, 80mV, 1.25V, 2.5V
0-20mA
Pt100
J
±2mV/V

Outputs

Limit relays

2

with common pin,

250V/5A

Selectable input

/

output

Count




Input




Output

1
bin

a

ry 24V DC 8 mA
tran

s

istor

24V DC 0.2A

Measurement resolution

16 bit

s

RTC

yes,

Li

battery backup

Communication interface

RS 485

or

CAN
Mechanic

al

description

Mounting




Dimensions




P

anel

cut-out




Keypad




Mass

front panel


48 x 96 x139 mm
45 x 92 mm
4

micro switches


300 g

Working conditions

Temperature range
0 ~ 50°C

Protection

Front

panel


Back side

IP 54
IP 20

Connection

16

screw terminals for

max.

2,5mm2
NDS-1 process controller can be used cost effectively for a wide class of automation tasks. Measurement, presentation and regulation of technological values it can realize separately or together with other control components. Relay outputs can be used for actuators control and regulation of measured value at given limits.
NDS-1 with current and voltage input can be used for measurement of different physical value sensor signals with standard analog output. For example humidity, pressure, pH, absolute tank level can be measured and regulated in this way.
PT100 input module allows use NDS-1 directly with resistance thermometer without using of more expensive temperature sensors with standard output signal.
Binary input module with standard 24V or NAMUR level allow use NDS as pulse counter. It is frequently used with flow meters with pulse output, for produced pieces counting etc. Concrete production, liquid mixing and dosing are a good example of its implementation.
Tensometric cell input module allows use NDS as a control unit for weighing equipment. CIO input/output modules can be controlled by NDS. Thanks to that NDS IO count can be increased and the unit can control equipment closely related to weight. Thanks to that very cost effective control units of dosing weights and packaging units were realized.
NDS-1 can be used also as a simple data terminal controlled by CAN from another control unit. CAN allows also dynamic parameter setting at all working modes.
NDS-1 software can be modified so that the unit can closely satisfy any customer needs.